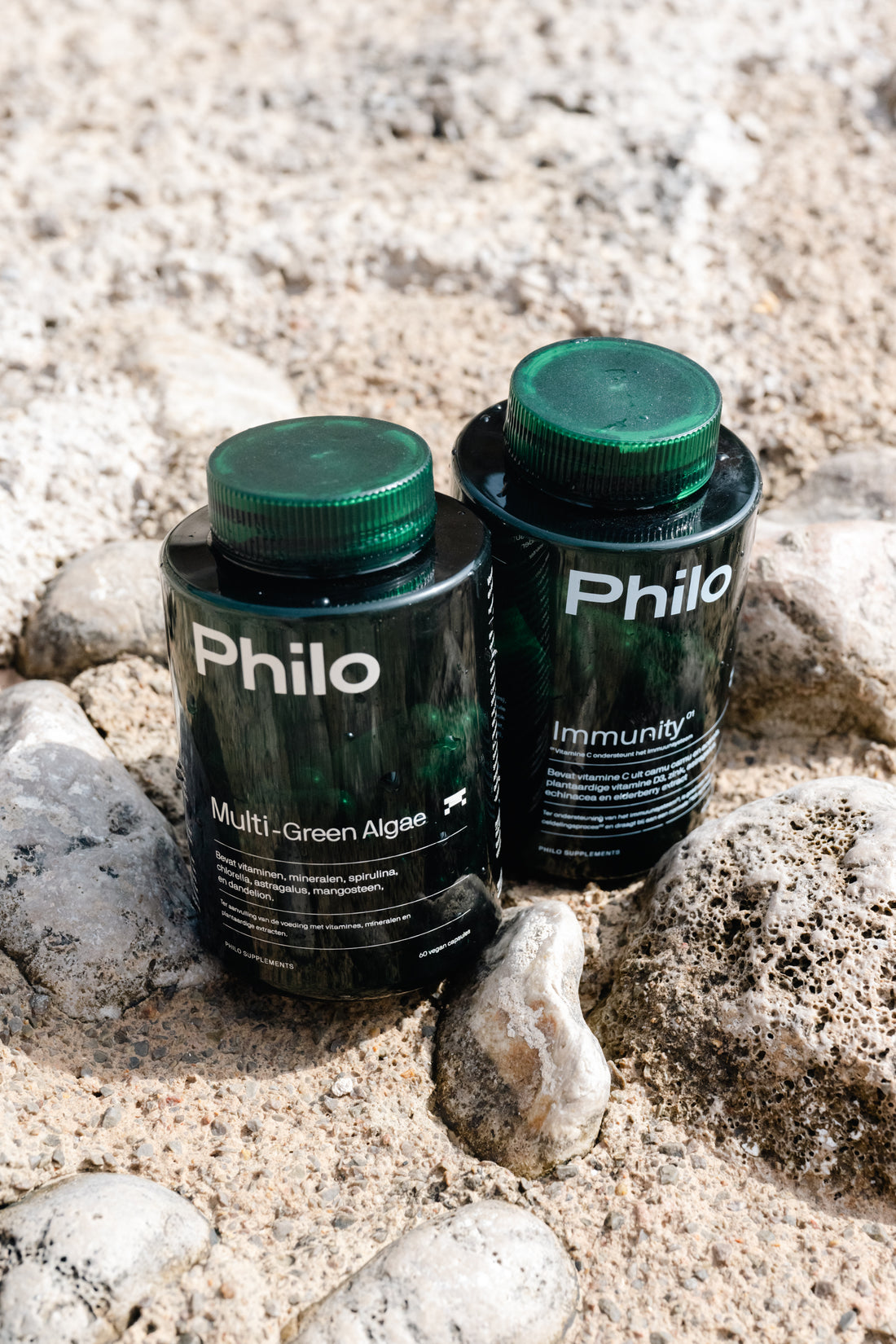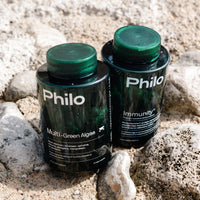 Buy a bundle and save 15%
Staying healthy and fit can be a challenge. Good multivitamins combined with immunity support makes it a lot easier. That's why this bundle is your new friend. The multi covers your daily nutrient needs and the Immunity provides the daily essential support for your immune system.
The combination of Multi with Immunity offers you a complete profile for optimal wellbeing and a strong defense mechanism.

Philo Multi for your daily micro-nourishment. For those who adopt busy lifestyles and yet want to keep the pace up. Featuring the extra benefits of algae and root extracts and fortified with camu camu for immunity and dandelion for liver support.
⎯⎯⎯

Philo Immunity is your guard against illness or infections. This high-performing supplement offers immune support with a staple of strengthening ingredients like camu camu, astragalus, elderberry, and zinc. To support immunity, and overall well-being, and to strengthen your natural defenses.
PHILO MULTI
+ Contains antioxidants 
+ Supports healthy cells
+ Boosts cellular energy
+ Contributes to the process of cell renewal 
+ With magnesium, calcium, and vitamin D for strong muscles and bones
+ With vitamin C and Camu Camu for immunity
+ With bioavailable B vitamins for energy en fighting fatigue 

⎯⎯⎯

PHILO IMMUNITY
+ With beta-glucan
+ Supports the body's natural defenses
+ Contributes to the normal functioning of the cell renewal process
+ Promotes normal DNA synthesis
+ Antioxidants
PHILO MULTI
+ Vitamins
+ Minerals
+ Spirulina
+ Chlorella
+ Astragalus
+ Mangosteen
+ Dandelion

All ingredients: Bètacarotene 2,4 mg, Vitamin B1 (thiamin HCl) 0,11 mg, Vitamin B2 (riboflavin-5-phosphate) 1,4 mg, Vitamin B3 (niacinamide) 16 mg, Vitamin B5 (calciumpantothenate) 6mg, Vitamin B6 (pyridoxal-5-phosphate) 1,4 mg, Biotin 50 mcg, Folate (5 MTHF Quatrefolic) 200 mcg, Vitamin B12 (methylcobalamin) 25 mcg, Vitamin C (ascorbic acid) 80 mg, Vitamin D3 (cholecalficerol, vegan) 10 mcg, Vitamin E (alfatocoferylsuccinate) 12 mg, Vitamin K2 (MK7) 37 mcg, Choline (bitartrate) 25 mg, Calcium (from seaminerals) 120 mg, Magnesium (from seaminerals, Aquamin TG) 56 mg, Chromium (picolinate) 40 mcg, Iodine (potassium iodine) 37,5 mcg, Manganese (als citrate) 1 mg, Molybdenum (sodiummolybdate) 50 mcg, Selenium (seleniummethionin) 28 mcg, Zinc (bisglycinate) 5 mg, Spirulina (Arthrospia platensis) 600 mg, Chlorella (pyrenoidosa) 25 mg, Astragalus extract 25 mg, Mangosteen (Garcinia mangostana) 25 mg, Camu camu 25 mg, Dandelion (Taraxacum officinale) 25 mg

⎯⎯⎯

PHILO IMMUNITY
+ Astragalus
+ Bètaglucanen
+ Camu camu
+ Elderberry extract
+ Resveratrol

All ingredients: Astragalus membranaceus extract (50% polysaccharides), bètaglucan extract (Yestimun®), filling agent (riceflour), vegan capsule (HPMC), camu camu, acerola (25% vitamin C), elderberry extract 4:1, garlic extract 20:1 (odorless), echinacea purpurea (4% polyphenoles), zincbisglycinate, Veri-te™trans-resveratrol (vegan), plant fiber (ricehull), humectant (MCT olie), cholecalciferol (vegan)
PHILO MULTI
Take two capsules a day, with a meal. We prefer taking them after breakfast.

⎯⎯⎯

PHILO IMMUNITY
We recommend taking one capsule a day, at any time, with some food. Do not exceed the recommended daily dose. Keep out of reach of small children. Food supplements should not be used as a substitute for a varied and balanced diet and a healthy lifestyle. Store in a dry place.
We ship worldwide. Orders can take up to 1-2 business days to be processed and shipped. Read our shipping policy here »
We have a 30-day return policy, which means you have 30 days after receiving your item to request a return. To be eligible for a return, your item must be in the same condition that you received it, unworn or unused, and in its original packaging. You'll also need the receipt or proof of purchase.

To start a return, you can contact us at info@philosupplements.com. If your return is accepted, we'll send you a return shipping label, as well as instructions on how and where to send your package. Items sent back to us without first requesting a return will not be accepted. Read our return & refund policy here »
What we love about Philo Multi + Immunity
"The combination of Multi with Immunity offers you a complete profile for optimal wellbeing and a strong defense mechanism."
The science
Multi
Some vitamins and minerals (micronutrients) are essential. That means we can not produce them ourselves. These micronutrients produce enzymes and hormones and keep our organs functioning properly. We need micronutrients for the growth, maintenance, and regulations of our bodily processes. Philo Multi offers a broad array of essential micronutrients. We have added herbs and roots to support the reduction of oxidative stress due to pollution, alcohol, sport, and the effects of an unhealthy diet.
The science
Immunity
Your immune system is a complex collection of cells that are constantly working to protect your body from invaders. Philo Immunity is a blend of phytonutrients that support your immune system. In addition to vitamin C from Camu Camu and Elderberry, zinc, and vitamin D, we have also added medicinal herbs, root extracts, and mushrooms that can enhance the immune response. A strong immune response is seen as essential for good health.
Sign up for 15% off
Healthy habits start here.
Subscribe to our newsletter for 15% off your first order and to hear about new products & stories.